Best of 2008 - Albums
Bijna was het een geslaagde 1-aprilgrap geworden, maar zelfs daarvoor ontbrak me de nodige tijd. Eerlijkheid gebiedt me te zeggen dat mijn aanpak iets te groots werd bij het opstellen van mijn eindejaarslijstje en dat ik uiteindelijk noch de tijd noch de zin vond om alles te documenteren zoals ik het wou.
Daarom en bijgevolg ziehier hoe ik 4 maand terug terugkeek op het jaar 2008, een degelijk doch weinig uitzonderlijk muziekjaar wat mij betreft.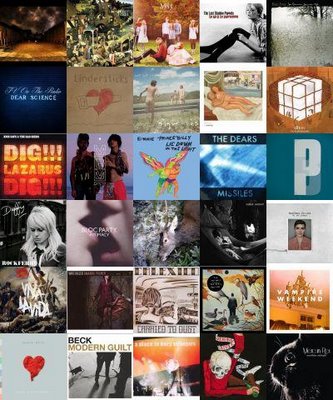 1. Gutter Twins - Saturnalia
Songs - Idle hands | Seven stories underground | Front Street
2. Fleet Foxes - Fleet Foxes
Songs - White winter hymnal | Ragged wood | Blue Ridge Mountains
3. M83 - Saturdays=youth
Songs - Kim & Jessie | Skin of the night | Graveyard girl
4. Last Shadow Puppets - The age of the understatement
Songs - The age of the understatement | Standing next to me | Only the truth
5. Bon Iver - For Emma, forever ago
Songs - Lump sum | Skinny love | Re: Stacks
6. TV on the Radio - Dear science
Songs - Dancing choose | Golden age | Family tree
7. Tindersticks - The hungry saw
Songs - Yesterday's tomorrows | The hungry saw | Boobar come back to me
8. Sigur Ros - With a drum in our ears we play endlessly
Songs - Gobbledigook | Inni mér syngur vitleysingur | Festival
9. Lambchop - OH (Ohio)
Songs - Slipped dissolved and loosed | National Talk Like A Pirate Day | Sharing a Gibson with Martin Luther King, Jr.
10. Elbow - The seldom seen kid
Songs - Starlings | Bones of you | Grounds for divorce
11. Nick Cave & the Bad Seeds - Dig, Lazarus dig!!!
Songs - Dig, Lazarus, dig!!! | Lie down here (& be my girl) | Midnight man
12. MGMT - Oracular spectacular
Songs - Time to pretend | Weekend wars | Kids
13. Bonnie Prince Billy - Lie down in the light
Songs - Easy does it | You remind me of something | You want that picture
14. The Dears - Missiles
Songs - Dream job | Berlin heart | Lights off
15. Portishead - Third
Songs - Silence | The rip | We carry on
16. Duffy - Rockferry
Songs - Rockferry | Stepping stone | Delayed devotion
17. Bloc Party - Intimacy
Songs - One month off | Talons | Ion square
18. Girls in Hawaii - Plan your escape
Songs - This farm will go up in fire | Fields of gold | Road to Luna
19. Conor Oberst - Conor Oberst
Songs - Cape Canaveral | Lenders in the temple | Milk thistle
20. Emiliana Torrini - Me and Armini
Songs - Me and Armini | Ha ha | Jungle drum
21. Coldplay - Viva la vida
Songs - Cemeteries of London | Viva la Vida | Violet hill
22. Amanda Palmer - Who killed Amanda Palmer
Songs - Astronaut | Runs in the family | Guitar hero
23. Calexico - Carried to dust
Songs - Victor Jara's hands | Two silver trees | Inspiración
24. The Notwist - The devil, you + me
Songs - Good lies | Where in this world | Boneless
25. Vampire Weekend - Vampire Weekend
Songs - Mansard roof | A-Punk | The kids don't stand a chance
26. Kanye West - 808s and heartbreak
Songs - Heartless | Love lockdown | See you in my nightmares
27. Beck - Modern guilt
Songs - Gamma ray | Chemtrails | Volcano
28.A Place to Bury Strangers - A Place to Bury Strangers
Songs - The falling sun | Iknow I'll see you | Ocean
29. Okkervil River - The stand ins
Songs - Lost coastlines | Blue tulip | On tour with Zykos
30. Mercury Rev - Snowflake midnight
Songs - Snowflake in a hot world | Butterfly's wing | Dream of a young girl as a flower
2007
- The National - Boxer
2006
- Yo La Tengo - I'm not afraid of you and I will beat your ass
2005
- Sufjan Stevens - Illinois
2004
- The Arcade Fire - Funeral
2003
- The Swords Project - Entertainment is over if you want it