Best of 2008 - Videos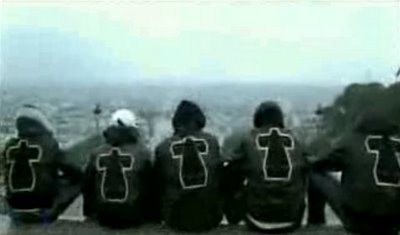 1.
Justice - Stress
De plaat, de clip, de controverse,... de spanning is alleszins reëel.
2.
Fleet Foxes - White winter hymnal
De vier jaargetijden anno 2008, even eenvoudig als betoverend.
3.
Coldplay - Violent hill (politicians version)
Wereldleiders opgevoerd als dansende marionetten, hoe diep is dat niet?
4.
Vampire Weekend - A-punk
Perfect voorbeeld van hoe een videoclip de energie en jeugdigheid van de song dient te capturen.
5.
Weezer- Pork and beans
Peanutbutterjellytime nog aan toe, welcome to the internetz!
6.
British Sea Power - No lucifer
James Ensor zou deze clip vast enig gevonden hebben.
7.
Lightspeed Champion - Tell me what it's worth
Kroniek van een liefdesleven gesponsord door...
8.
Portishead - We carry on
Hier durven we al eens bang en nerveus van worden.
9.
MGMT - Time to pretend
Dat heet dan retro zijn, zonder twijfel de foutste blingloze clip van het jaar.
10.
Polyphonic Spree - We crawl
Paint me a flower on the cheek and call me Moonray
, de positieve karma straalt je zo tegemoet dat er niet aan te ontsnappen is.