Kanye vs Curtis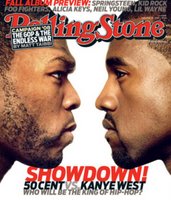 Los van tijd en onderwerp is de rapmuziek altijd al een ego-gedreven muziekgenre geweest. Het battelen en dissen zorgde voor een actief underground circuit van mixtapes waarop verbaal heel wat vetes beslecht worden en dezer dagen wordt het zelfs beschouwd als een eerste stap in het opbouwen van de nodige
street cred
.
De
head to head
heisa rond de release van "Graduation" en "Curtis" op 11 september was echter van een andere - commerciëler - aard. Net zoals in de oude Britpopdagen (
Blur vs Oasis
anyone?) speelden media en marketingafdelingen beide artiesten tegen elkaar uit. 50 Cent liet het volgende optekenen:
It's great marketing on Def Jam's part, by putting us out there at the same time and make like we can actually be compared on some level.
Het is moeilijk uit te maken in welke mate de albums zouden verkopen zonder alle rivaliteitspubliciteit, maar met een States-side verkoop van resp. 957.000 en 691.000 exemplaren in de eerste week mogen beide heren niet klagen.
Niet enkel kwantitatief maar ook kwalitatief dreigt 50 Cent het ecchter af te leggen ten opzichte van Kanye. Curtis zit namelijk vastgeroest in zijn gangsta-rapwereldje en dito imago terwijl Kanye een steeds groter publiek weet te bereiken zonder toegevingen te doen.
Rawking
vat het goed samen:
As the numbers are about to showcase, West is in the utterly unique position of being able to appeal to everyone. Okay, maybe not old people. But consider: How many musicians can drop an album that simultaneously races up the charts, gets bumped at clubs, earns kudos from hip-hop heads and pop critics alike, and anticipates the underground zeitgest? None of them, or at least none with West's unbelievable mass appeal.
Met "Graduation" heeft West geleerd uit z'n fouten, de overbodige skits zijn geschrapt, de speeltijd ingekort en singles als "Stronger" en "Homecoming" kunnen zijn ster enkel hoger doen rijzen bij het brede publiek. Prachtig artwork trouwens.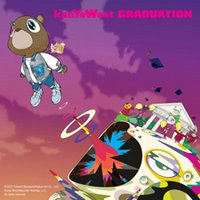 Labels: muziek