This is a Pinback post
Een mens moet ergens beginnen. Wat het indie-genre betrof, was het self-titled debuut van Pinback een van de eerste albums dat ik leerde kennen en appreciëren. Hoewel er daarnaast ook een hele troep aan zijprojecten waren (Thingy, Heavy Vegetables, Three Mile Pilot,
Goblin Cock
,...) en de Rob Crow soloplaten, heb ik me door de loop der jaren voornamelijk tot de hoofdgroep beperkt.
Het prima debuut werd opgevolgd door de al even prima albums "Blue screen life" (2001) en "Summer in Abaddon" (2004) en als alles goed is, zou hun nieuwste "Autumn of the Seraphs" nu in de winkels moeten liggen.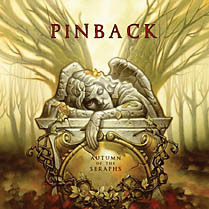 Op hun volledig ge-restyle-de
website
kan je het eerste nummer alvast gratis downloaden:
From nothing to nowhere
Sinds hun
geslaagde doortocht op Dour 2004
zijn ze niet meer in het land geweest, maar daar komt binnenkort verandering in:
20/11
Trix
, Antwerpen
21/11
STUK
, Leuven
Als ik u evenwel een kleine tip mag geven, ga op 20 november. Zodoende kan u in diezelfde Trix op 21 november naar
Asobi Seksu
gaan kijken. Doen!