Medic!
Small boys in the park, jumpers for goalposts, new football shoes killing me. Marvellous, innit?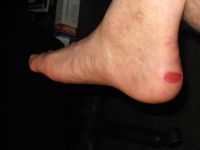 En dames, zwijg me van pijndrempels en bevallingen. I'm dying in here!
Oh ja, ik heb ook nog een foto van
Patti Smith
weten te trekken (but don't get me started on the rest of that evening). Tenslotte beloof ik niks, maar mogelijkerwijs zal de kwispagina morgen sinds lange tijd nog eens aangevuld worden. Geef toe, spannende belevenissen in uw en mijn saaie leven!