With a buzz in our ears we play endlessly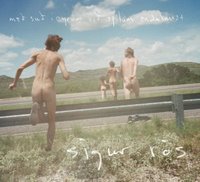 Oftewel "Með suð í eyrum við spilum endalaust" indien u een aardig woordje IJslands verstaat, of Hopelandic, je weet het nooit met die mannen.
Het vijfde studio-album van de heren Sigur Ros zou ergens vanaf 23 juni in de platenrekken moeten liggen. U herkent ze aan de blote mannenkonten, als dat niet praktisch is.
Wie ondanks de kwalitatieve output van de vorige albums toch zou twijfelen aan het resultaat (ze bestaan) of gewoon nieuwsgierig is (u kent ze wel) of niet meer kan wachten (de meesten onder ons), kan vanaf vandaag het album in streaming terug vinden op hun
website
. Een welgemeend
Takk
is hier op z'n plaats, nietwaar?