Voeten omhoog
Want er moeten weer een paar muziekitems buitengekuist worden:
- Tot nu toe ongeveer nog met geen woord over gerept: Hard-Fi @ AB Brussels (5/10/05)
Jong en snedig als vroege Supergrass, in-your-face als Oasis en catchy als Blur, en dat met keyprints van The Clash en The Specials. Het optreden was degelijk zonder echte uitschieters, een stevig "Living for the Weekend" niet te na gesproken.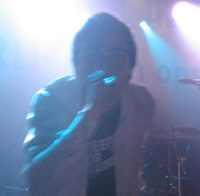 Pics:
1
2
3
4
5
6
Setlist: Intro // Middle Eastern holiday // Gotta reason // Unnecessary trouble // Better do better // Tied up too tight // Sick of it all // Feltham is singing out // Seven nation army (White Stripes cover) // Cash machine // Hard to beat // *bis* // Levi Stubbs' tears (Billy Bragg cover) // Stars of CCTV // Living for the weekend
- Food for
Smintjes
:
Neutral Milk Hotel goodies
- Voor de fans van
Okkervil River
is er dan weer
The Okkervil River Navigational Auxiliary Guide
-
Hier
moet u zijn voor videoclips van
My Bloody Valentine
uit langvervlogen tijden (
via
)
- Afgelopen weekend pas voor de eerste maal opgemerkt dat de
Ancienne Belgique
een eigen blog heeft lopen:
is het nu ABlog of ABBlog?
- En tot slot, met dank aan de eerder genoemde Smintjes:
Dirty on Purpose, Live @ Boston